This is an accordion element with a series of buttons that open and close related content panels.
Upcoming Events
Prior Events
Zoom and Loom, Friday Nov. 20th, 4-5pm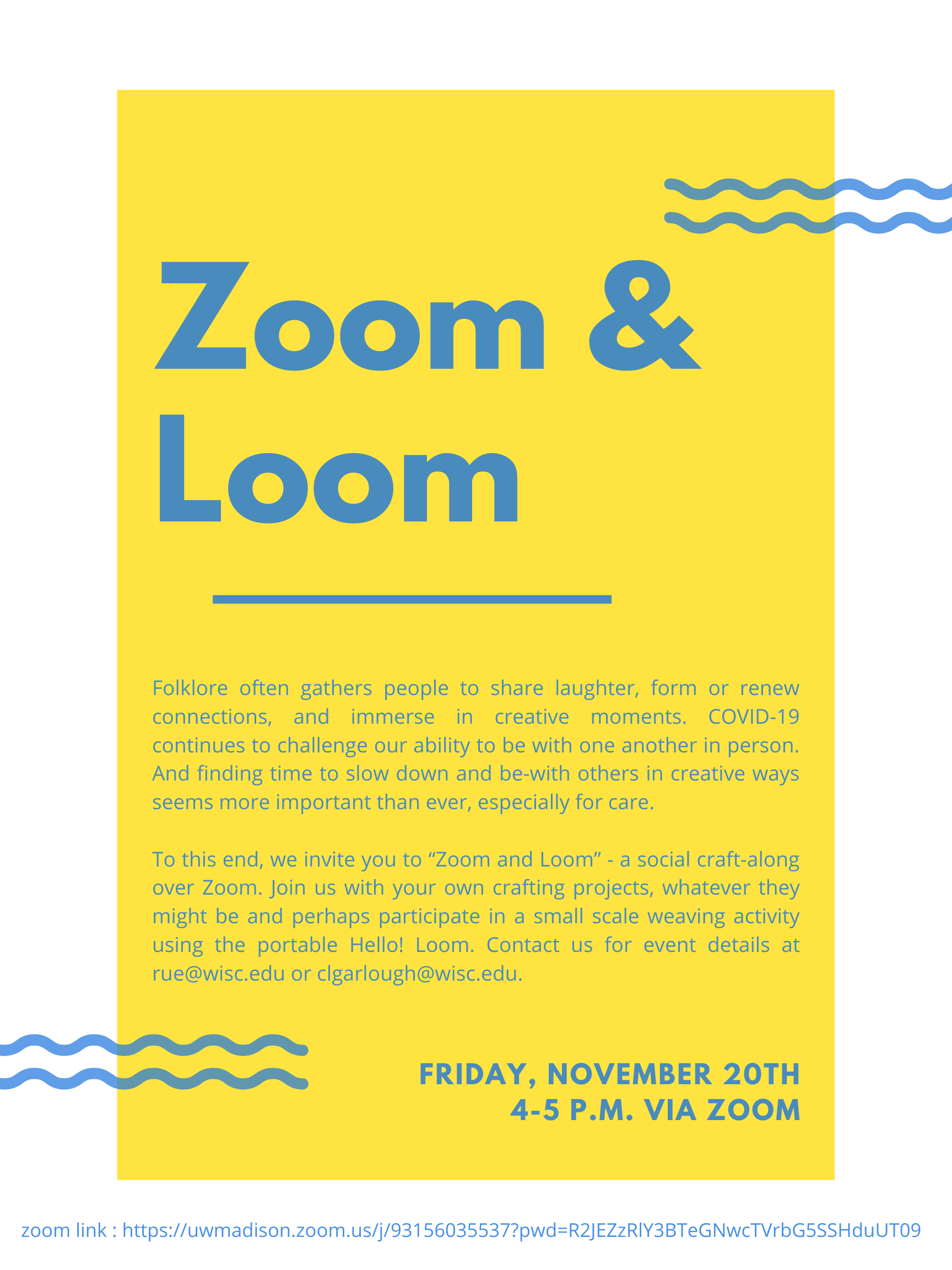 November 9, 2020, Conversation with Sarah Deer and Bonnie Clairmont, about "Confronting Sexual Violence in the Settler Colonial University."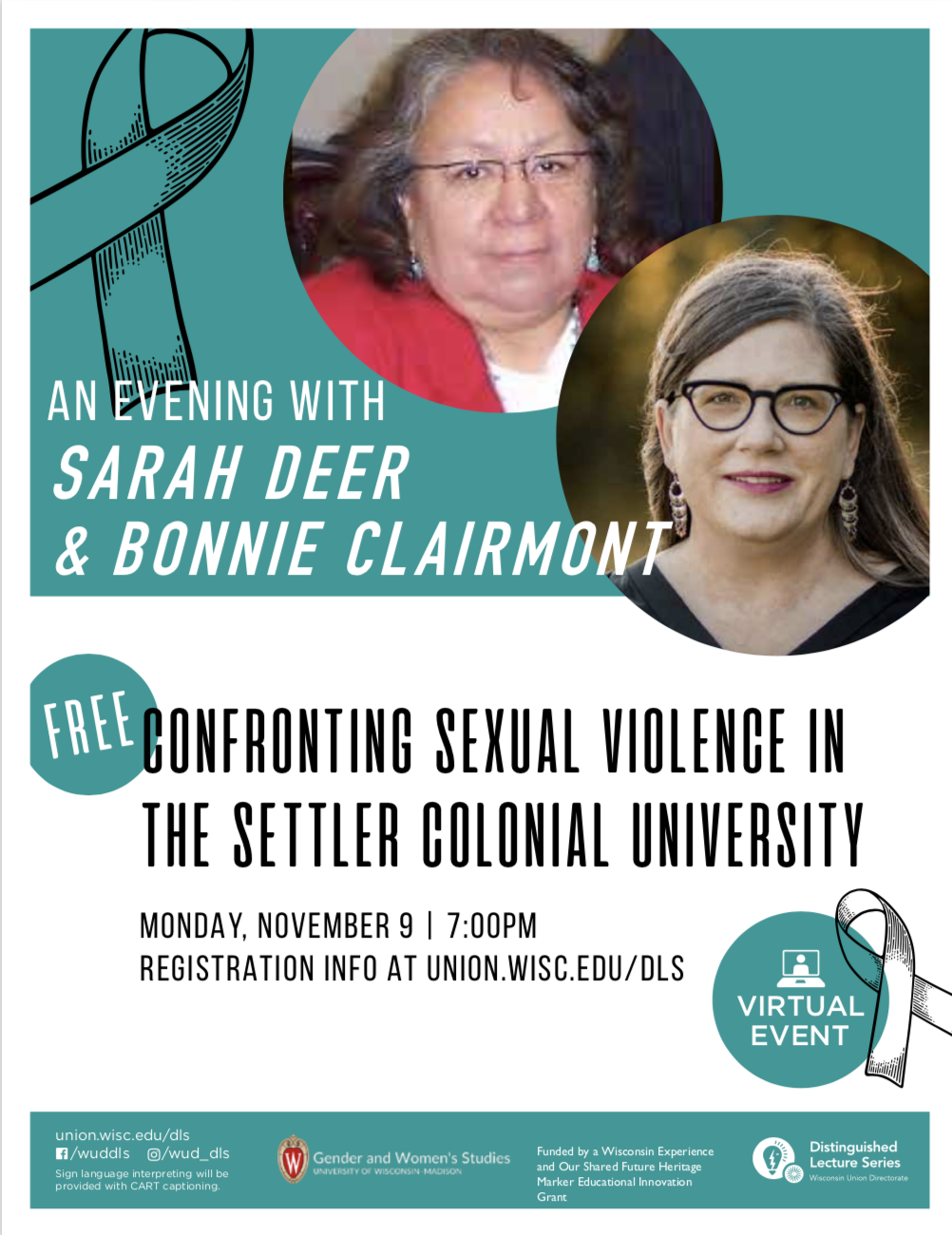 Click here to watch their conversation on how ongoing settler colonial occupation perpetuates gender-based violence within a university setting.
This event was hosted by the Care Workshop and WUD Distinguished Lecture Series and funded by the Wisconsin Experience and Our Shared Future Heritage Marker Educational Innovation Grant. Learn more about Our Shared Future here.
March 7, Talk by Kyle Powys Whyte 
Environmental Philosopher Kyle Powys White, "Redefining Energy Justice through the Consent of non-Human Relatives,"
February 19th , Readings Group, 6:30pm- 8:30pm Care and the Arts
February 13th, Afternoon Workshop on Art-Making and Self-Care
Professor Beatriz Botero and Gabrielle Javier-Cerulli,
Thurs, February 13th, 2020, 11:00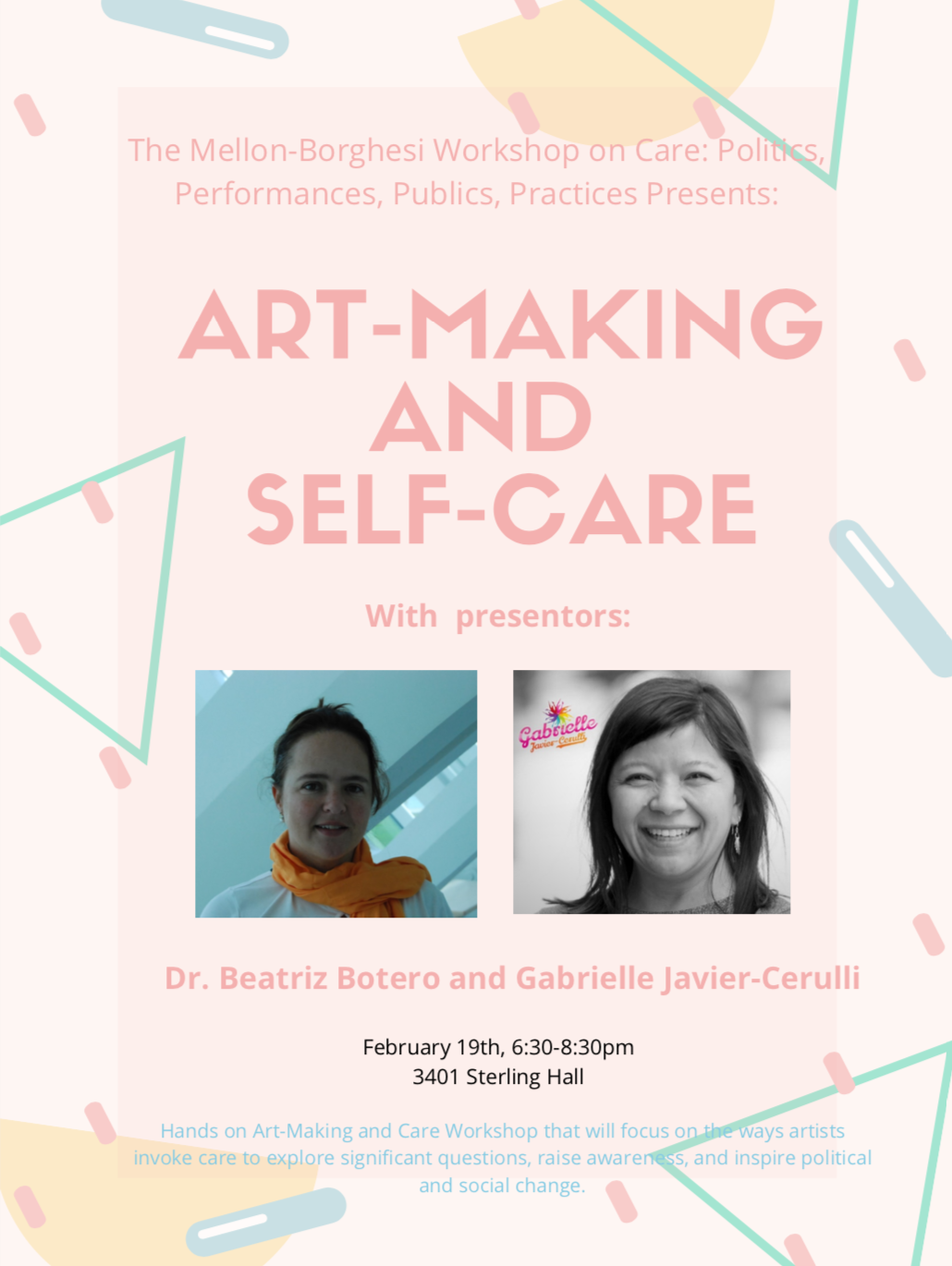 January 30: Græn R∞m Art Exhibit Tour: Art Installation by Simone Doing and Max Puchalski 
January 29: Colloquium on Care and Wellbeing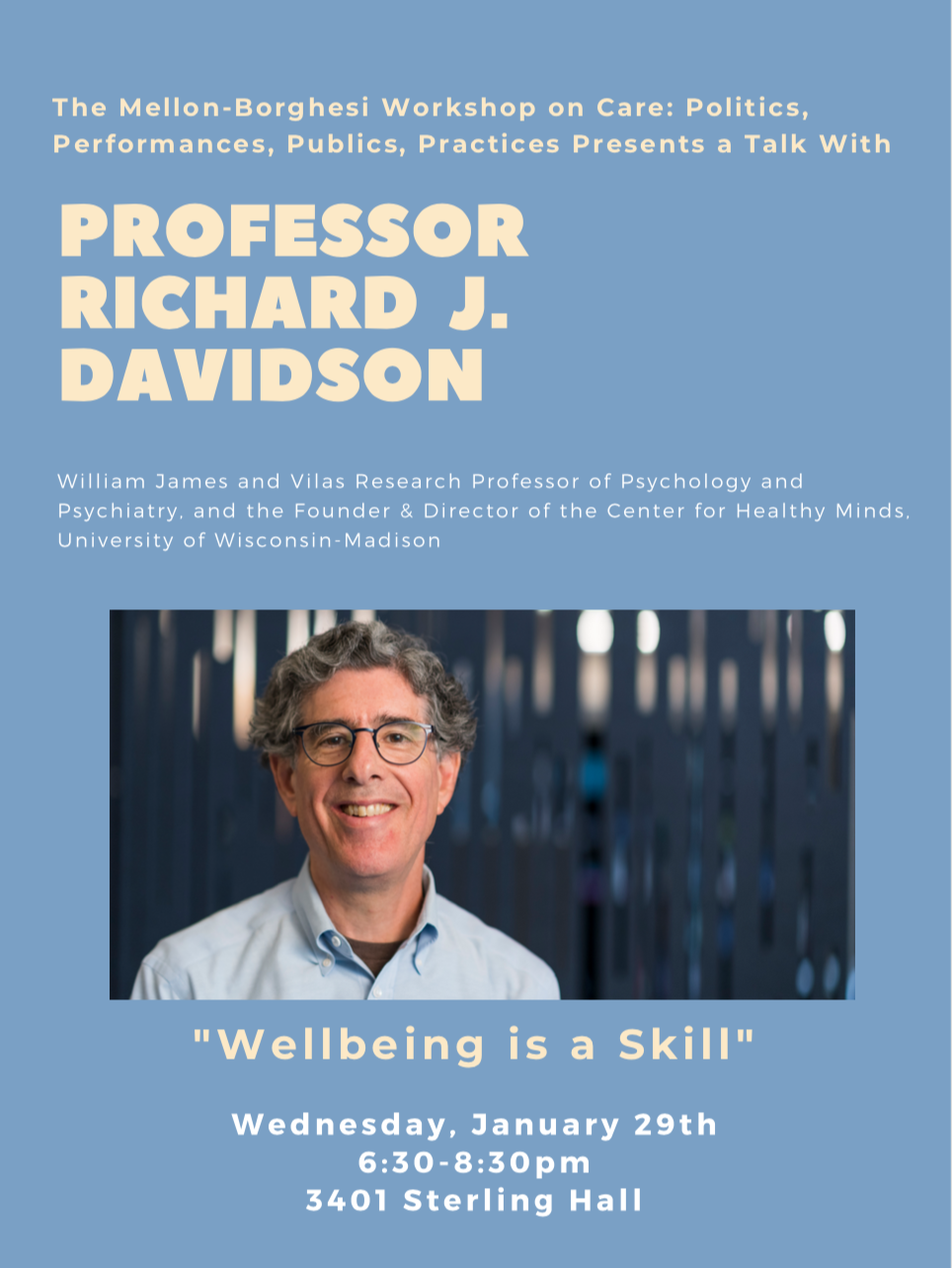 November 8 6:30 pm: Undergraduate Experience: Sexual Violence and Care on Campus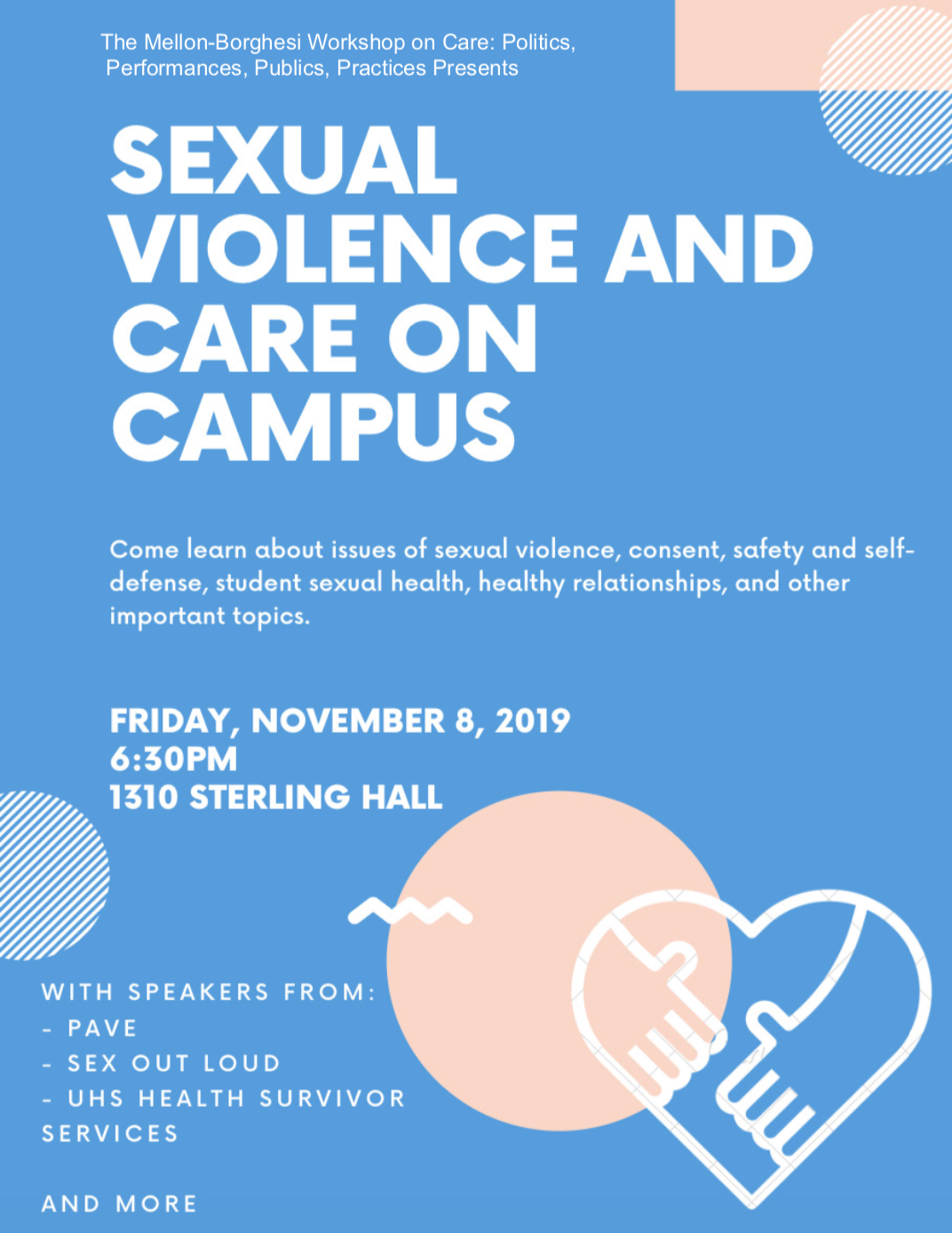 People
Our interdisciplinary team builds upon its interconnectedness, bringing together undergraduates, graduate students, faculty and staff and a public audience of intellectuals, artists, activists and beyond.
Lead Organizers:
Professor Christine Garlough: Professor of Gender and Women's Studies, Garlough's research constellates around issues of rhetoric, philosophy, feminist theory and performance. Her work on ethics of care and acknowledgment has been published in journals like Women Studies in Communication and her monograph, Desi Divas: Activism and Acknowledgment in Diasporic Performances and she teaches a course for GWS titled, "Feminist Politics of Care." She works primarily with grassroots feminist activists in India and the U.S. who re-envision vernacular culture for political purposes and create caring contexts for social change.
Assistant Professor Annie Menzel: Assistant Professor of Gender and Women's Studies and former midwife, Menzel's research focuses on race, gender, and reproductive politics in North America. A political theorist with emphases on reproductive justice, Black political thought, Black feminisms, feminist political theory, queer theory, and biopolitics, her work brings these literatures to bear on the histories and current shape of health and medicine. Her first book, The Political Life of Black Infant Mortality, is under contract with the University of California Press.
Professor Michael Peterson: Professor of Art and Director of the graduate program in Interdisciplinary Theatre Studies, Peterson is co-founder of the arts collaborative Spatula&Barcode, which is centrally concerned with themes of hospitality and conviviality, and co-edited a recent issue of the journal Performance Research on the theme "On Generosity." He teaches a First-year Interest Group course titled "How to Live: Art, Ethics, and the Everyday."
Professor Beatriz L. Botero: Professor of Comparative Literature and Folklore Studies, Botero is a specialist in contemporary Latin American literature and cultural studies. Her research is oriented primarily towards topics in poetics, trauma, and psychoanalysis with special emphasis on identity, body and social conflict. That is present in her book Women in Contemporary Latin American Novels. Psychoanalysis and Gendered Violence.
Agnes Phoebe Muyanga: Gender & Women's Studies graduate student, Muyanga is interested in exploring the perceptions and evolution of feminisms within Uganda's cultures, as well as women's positionality as influenced by education, policy and media in Uganda. Understanding the concept of "care" is central to my current and future research projects, as well as my personal experiences as an educator.
Flint Devine: Gender and Women's Studies graduate student, Devine is interested in the process of healing from intergenerational trauma, transphobia, and homophobia associated with being Two-Spirit. One avenue of care I am focusing on is Indigenous beadwork.
Tia Murray: PhD student in Human Ecology, doula, and longtime community organizer, Murray's research explores the root causes of residual impacts of racial inequities in maternal and child health, and black infant mortality in particular, using a reproductive justice framework and community-based participatory research. She is also interested in furthering research on the benefits of doulas on perinatal health outcomes in communities of color. She feels it imperative to reframe our language and research in respect to racial health disparities.
Jimmy Camacho: Taitano Camacho is a Chamoru from Guåhan (Guam) and PhD Candidate at the University of Wisconsin-Madison. His work examines how Indigenous peoples across Oceania are enacting distinct property institutions to regenerate political and cultural foundations, as a means to obtain political sovereignty and survive.
Readings Group
Readings Group 2020-21 year
Wednesday, Nov. 11th from 6:30-7:30pm:
Readings for Jill Casid:
Thanatography Working the Folds of Photography s Wild Performativity in Capital s Necrocene
Wednesday, Oct. 21st from 6:30-7:30pm:
Welcome Gathering on Wednesday from 6:30-7:30:
Hedva_Get Well Soon! Reading
Past Readings:
Care, the Arts and Social Justice
Piepzna-Samarasinha, L. L. (2018). Prefigurative Politics and Radically Accessible Performance Spaces: Making the World to Come. In Care work: Dreaming disability justice. arsenal pulp press. Piepzna-Samarasinha, Prefigurative Politics and Radically Accessible Performance Spaces (PDF)
Thompson, J. (2015). Towards an aesthetics of care. Research in Drama Education: The Journal of Applied Theatre and Performance, 20(4), 430-441. Thompson – Towards an Ethics of Care (PDF)
Rabin, C. L. (2009). The theatre arts and care ethics. Youth Theatre Journal, 23(2), 127-143. Rabin_The Theatre Arts and Care Ethics (PDF)
January 29, Readings Group 5, 6:30-8:00, Care, Mindfulness and Well-Being
Talk by Professor Richard Davidson, "Wellbeing is a Skill"
Davidson, R. J. (2010). Empirical explorations of mindfulness: conceptual and methodological conundrums. PDF: Davidson, Empirical Explorations of Mindfulness
Paulson, S., Davidson, R., Jha, A., & Kabat‐Zinn, J. (2013). Becoming conscious: the science of mindfulness. Annals of the New York Academy of Sciences, 1303(1), 87-104. PDF: Paulson, Davidson, Jha, Kabat-Zinn, Becoming Conscious
Rev. angel kyodo, Lama Rod Owen, and Jasmine Syedullah, (2016) Radical Dharma: Talking Race, Love, and Liberation. Berkeley: North Atlantic Books (Selection)
Purser, Ron. (2019). McMindfulness: How Mindfulness Became the New Capitalist Spirituality (selection)
Readings for the fourth meeting: 4 December: Black Feminist Care
Hartman, Saidiya. (2016) The Belly of the World: A Note on Black Women's Labors. Souls 18(1): 166-173. PDF
Gumbs, Alexis. (2016) m/other ourselves: a Black queer feminist genealogy for radical mothering. In: Alexis Pauline Gumbs, China Martens, and Mai'a Williams (eds.) Revolutionary Mothering: Love on the Front Lines. Oakland: PM Press, pp. 19-31. PDF
Readings for the third meeting: 6 November:
Sara Ahmed (2017) Conclusion 1: A Feminist Killjoy Survival Kit. In Living a Feminist Life.
Ahmed_Feminist Killjoy Survival Kit_ocr (pdf)
Angela Carter (2015) Teaching with Trauma: Trigger Warnings, Feminism, and Disability Pedagogy. Disability Studies Quarterly 35(2).
Carter_Teaching with Trauma- Disability Pedagogy, Feminism, and the Trigger Warnings Debate (pdf, no internal links)
Gorski, P. C., & Chen, C. (2015). "Frayed all over:" The causes and consequences of activist burnout among social justice education activists. Educational Studies, 51(5), 385-405.
Gorski and Chen, Frayed All Over The Causes and Consequences of Activist Burnout Among Social Justice Education Activists (pdf)
Piepzna-Samarasinha, L. L. (2018). Care Webs: Experiments in Creating Collective Access. In Care work: Dreaming disability justice.
Piepzna-Samarasinha_Care Webs_Part 1
Piepzna-Samarasinha_Care Webs_Part 2
Readings for the second meeting: 16 October:
Ethics of Care in Environmental Ethics discussion starters
Whyte, K. P., & Cuomo, C. J. (2016). Ethics of Caring in Environmental Ethics: Indigenous and Feminist Philosophies. The Oxford handbook of environmental ethics, 234 Ethics_of_Caring_in_Environmental_Ethics (1)
TallBear, K. (2018). "Making Love and Relations Beyond Settler Sex and Family." In Adele Clarke and Donna Haraway, Eds, Making Kin Not Population. Chicago: Prickly Paradigm Press, 145-164. TallBear, Making Love and Relations Beyond Settler Sex and Family
Simpson, L. (2017). "Endlessly Creating Our Indigenous Selves" and "Constellations of Co-resistance." In As We Have Always Done: Indigenous Freedom through Radical Resistance. Minneapolis: University of Minnesota Press.)Endlessly Creating our Indigenous Selves Constellations of Coresistance
Additional reading:
Women's Earth Alliance (WEA) and Native Youth Sexual Health Network (NYSHN) 2016. "Violence on the Land, Violence on Our Bodies" report and toolkit, available online at http://landbodydefense.org/uploads/files/VLVBReportToolkit2016.pdf
Readings for our first meeting, 6:30-8:00, September 25:
These two texts pair emergent developments in care theory and practice from a queer of color disability justice perspective with foundational feminist care theory. Both center questions of power.
Piepzna-Samarasinha, Fair Trade Emotional Labor Economy (pdf) Piepzna-Samarasinha, L.L. (2018). "A Modest Proposal for a Fair Trade Emotional Labor Economy (Centered by Disabled, Femme of Color, Working-Class/Poor Genius)". In Care Work: Dreaming Disability Justice. Vancouver, BC: Arsenal Pulp Press, 136-148. [This reading is a revised version of Piepzna-Samarasinha's 2017 Bitch Magazine article of the same title, available here in a format that some may find easier to read.]
Creating Caring Institutions Politics Plurality and Purpose (pdf)  Tronto, J.C. (2010). Creating Caring Institutions: Politics, Plurality, and Purpose. Ethics and Social Welfare 4(2): 158-171. Also available at https://www.tandfonline.com/doi/full/10.1080/17496535.2010.484259
Long List of References
Schedule of Readings
Public Lectures
More information coming soon.
Workshops
More information coming soon.
Local Community Outreach
More information coming soon.
Undergraduate Experience
A forum on "Sexual Violence and Care on Campus"  specifically geared to our undergraduate students.
Date: Friday November 8th
Time: 6:30 pm
Location: 1310 Sterling Hall
Artists Gallery and Performances
More information coming soon.
New Publications
More information coming soon.
Conferences and Networks
More information coming soon.
Treaty Day Event
What does care mean on a campus that occupies Indigenous lands and waters? Long-overdue conversations are beginning on campus about colonization and Ho Chunk history and sovereignty. Our workshop organizers will be attending a UW Distinguished Lecture Event. Come join us at Indigenuity & Teejop: Launching Mindfulness Of This Sacred Place, An Evening with Samantha Skenandore, (Attorney, Quarles & Brady and Ho-Chunk Nation Tribal Member), September 23, 2019 At 7:30 p.m., Shannon Hall, Memorial Union.