2021-22 Events
Join us in attending these event organized by PAVE and DAIS: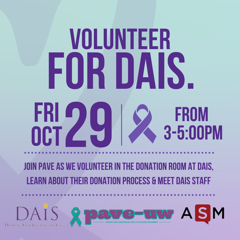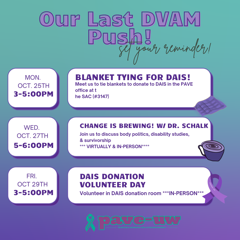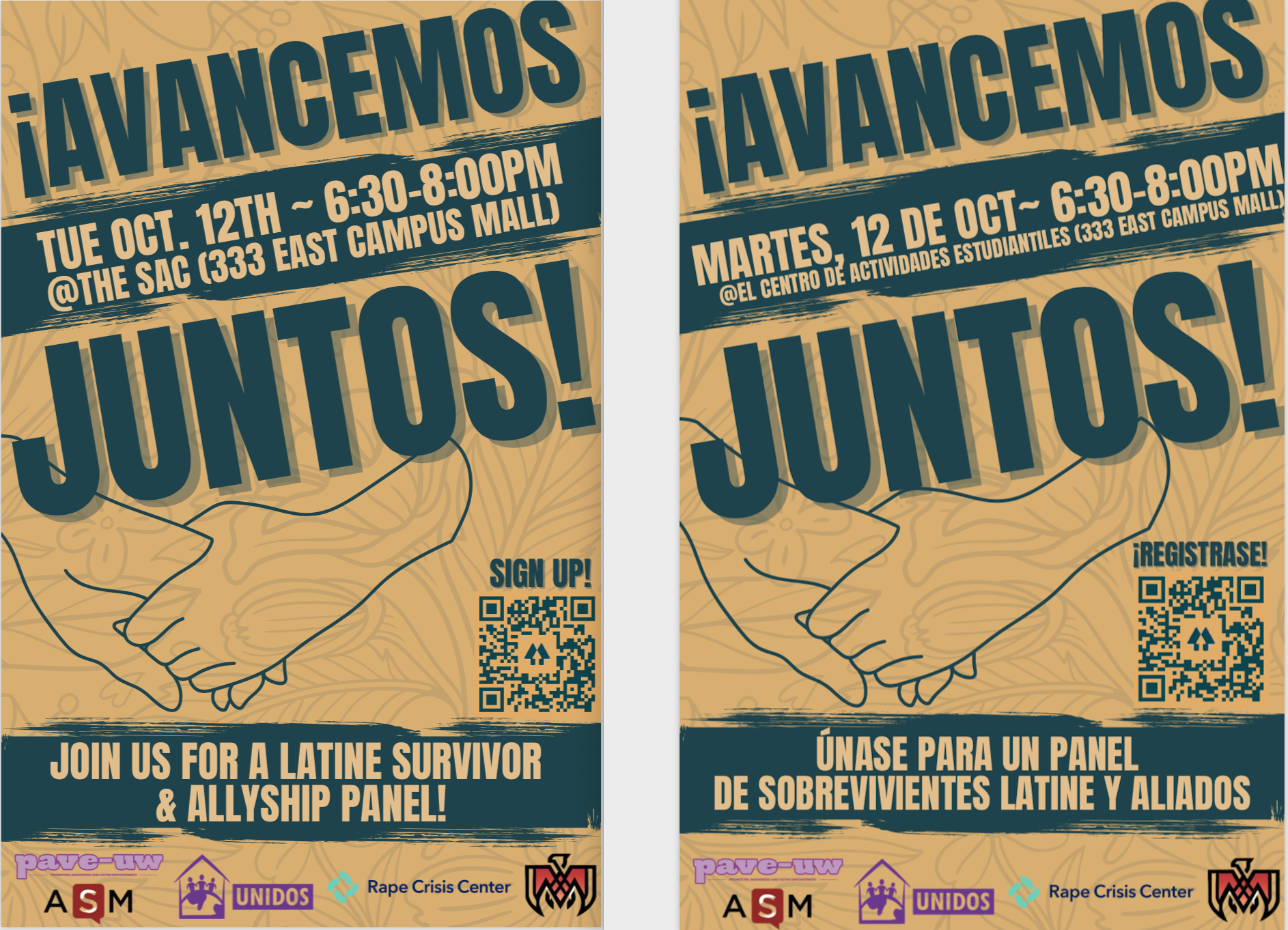 Join us in attending an event organized by PAVE, UNIDOS, ASM, and the Rape Crisis Center. This Latine survivor and allyship resource panel will discuss community resources and highlight the need to work together to end domestic & intimate partner violence towards Latine communities!
When: Tuesday, October 12th  from  6:30-8:00pm.
Where: The Student Activity Center (333 East Campus Mall) at the Hearing Room!
 ~~~~~
¡Únase a nosotros para un panel de recursos para sobrevivientes Latine y aliados, donde discutiremos los recursos comunitarios y destacaremos la necesidad de "avanzar" juntos para terminar con la violencia domestica dentro de las comunidades Latine.
Cuándo: martes 12 de octubre de 6:30 a 8:00 p.m,
Dónde: El Centro de Actividades Estudiantiles (333 East Campus Mall) en la Sala de Audiencias.
Past Care Workshop Events
Circle of Care for Global Health and Human Rights_ Migration and Human Trafficking of Women from West Africa to Europe
Technologies of Kinship and Care
Care and Communications Ethics
Care, Art and Performance Activism
Death, Dying and the Ethics of Care
Confronting Sexual Violence in the Settler Colonial University
Care and Reproductive Justice
Sexual Violence and Care on Campus
Writing about my Seven Mothers_ Storytelling and Oral History as a Care Practice
What We Hope to Accomplish Together
Goals for Participants
Build a Learning Community
To build a learning community that meets together bi-weekly to discuss readings or interact with a local guest speaker. Themes include: Mapping out a Feminist Ethics of Care; Race, Gender, and Care; Philosophy, Rhetoric, Politics and Care; and More.
Share Tools and Practical Techniques
To share a range of conceptual tools and practical techniques for establishing caring relationships and communities.
Gain Awareness
To gain awareness of work already underway in adjacent fields of scholarship and practice, and of the lived understandings of care possessed by activists, organizers and caregivers.
May 2021 Care Conference
Relations of Care Across and After Worlds Conference
The Borghesi-Mellon Workshop on Care: Politics, Performances, Publics, Practices sponsored a virtual conference May 13 and 14, 2021. To read more about the conference, please click the link below