Upcoming Care Initiative Events 2022-2023
"Portals of Care: When Nations Fail Us" An Artist Talk with Jess X. Snow
October 12 from 6-7:15 pm in Chamberlin 2241, University of Wisconsin-Madison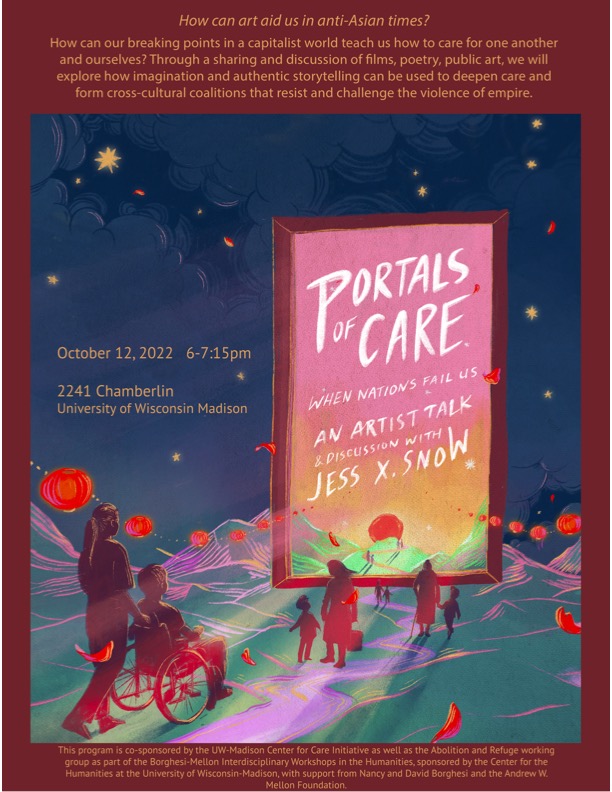 Talk Description:
How can art aid us in anti-Asian times? How can our breaking points and moments of burnout in a capitalist world teach us how to love each other and ourselves better? Combining films, poetry, public art, and cultural analysis, we will explore how we can use imagination and authentic storytelling to care for eachother, and form cross-cultural coalitions that challenge the violence of empire, the ableism of capitalism and the American dream. Queer, Asian immigrant artist, Jess X. Snow will take us on a journey of time travel from Chinese Exclusion, to the harm of performing for the model minority myth, to public art interventions of the present pandemic moment, to the dreaming of abolitionist futures where we have torn down these systems and built a more caring world.
Reproductive Health and Justice in Wisconsin and Beyond: Reproductive Justice Round Table with Discussant Annie Menzel
Date Postponed TBD, Center for Research on Gender & Women
University of Madison-Wisconsin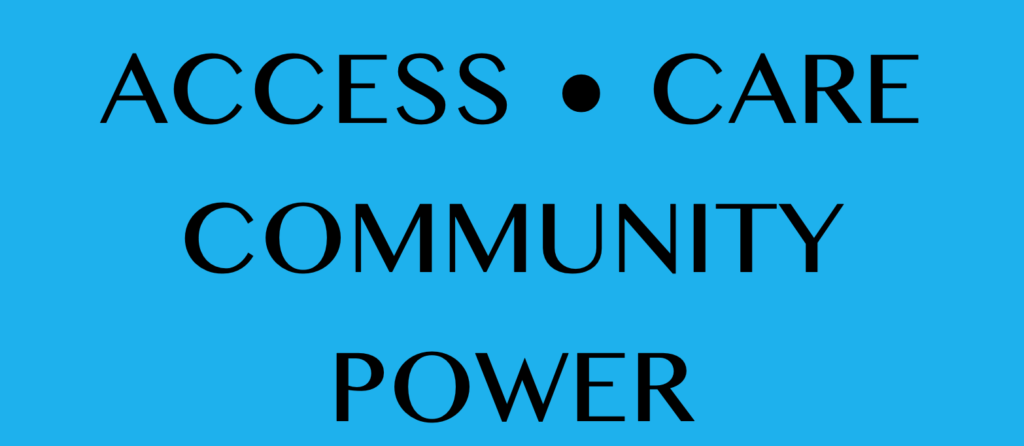 Co-Sponsored Event: "Latinx Feminisms Then and Now"
Thursday, November 10, 2022, 4:00 p.m. – 5:30 p.m, 206 Ingraham Hall, University of Wisconsin-Madison
Speakers:
Mariana Ortega, Associate Professor of Philosophy and Women's, Gender and Sexuality Studies, Penn State University
Ortega's research focuses on Women of Color Feminisms, in particular Latina Feminisms, 20th Continental Philosophy, Phenomenology (Heidegger), Philosophy of Race, and Aesthetics. She investigates questions of self, identity, as well as visual representations of race, gender, and sexuality. She has published in various journals including The Journal of Speculative Philosophy, International Philosophical Quarterly, Critical Philosophy of Race, Hypatia, Radical Philosophy Review, and philoSOPHIA. She is author of In-Between:  Latina Feminist Phenomenology, Multiplicity, and the Self (SUNY, 2016) in which she presents a theory of multiplicitous selfhood informed by women of color theorizing, in particular Latina feminisms, and Heideggerian phenomenology. She is co-editor with Andrea Pitts and José Medina of Theories of the Flesh, Latinx and Latin American Feminisms, Transformation and Resistance (Oxford University Press 2019); she is also co-editor with Linda Martín-Alcoff of the anthology Constructing the Nation:  A Race and Nationalism Reader (SUNY, 2009). Her current research is at the nexus of aesthetics, photographic theory, race, and the epistemology of ignorance.  She is the founder and director of the Latina/x Feminisms Roundtable (formerly the Roundtableon Latina feminism), a forum dedicated to discussions of Latina/x and Latin American feminisms.
Stephanie Rivera-Berruz, Associate Professor of Philosophy and Co-Director of the Center for Race, Ethnicity, and Indigeneity at Marquette University
Rivera Berruz's main research interests lie in Latin American Philosophy and Latinx feminisms as well philosophy of race, gender, and sexuality. She recently co-edited an anthology: Comparative Studies in Latin American and Asian Philosophies (2018), and her publications appear in Hypatia, Inter-American Journal of Philosophy, and Essays in Philosophy. Originally from Bayamon, Puerto Rico, Dr. Rivera Berruz has lived both inside and outside of the continental United States. She credits her migrations as inspirations for her interests in philosophies that explore myriad dimensions of identity. Her current research examines the philosophical thought of three lettered women in the Hispanophone Caribbean at the turn of the twentieth century.
Collaborative Events with The Center for Research on Gender and Women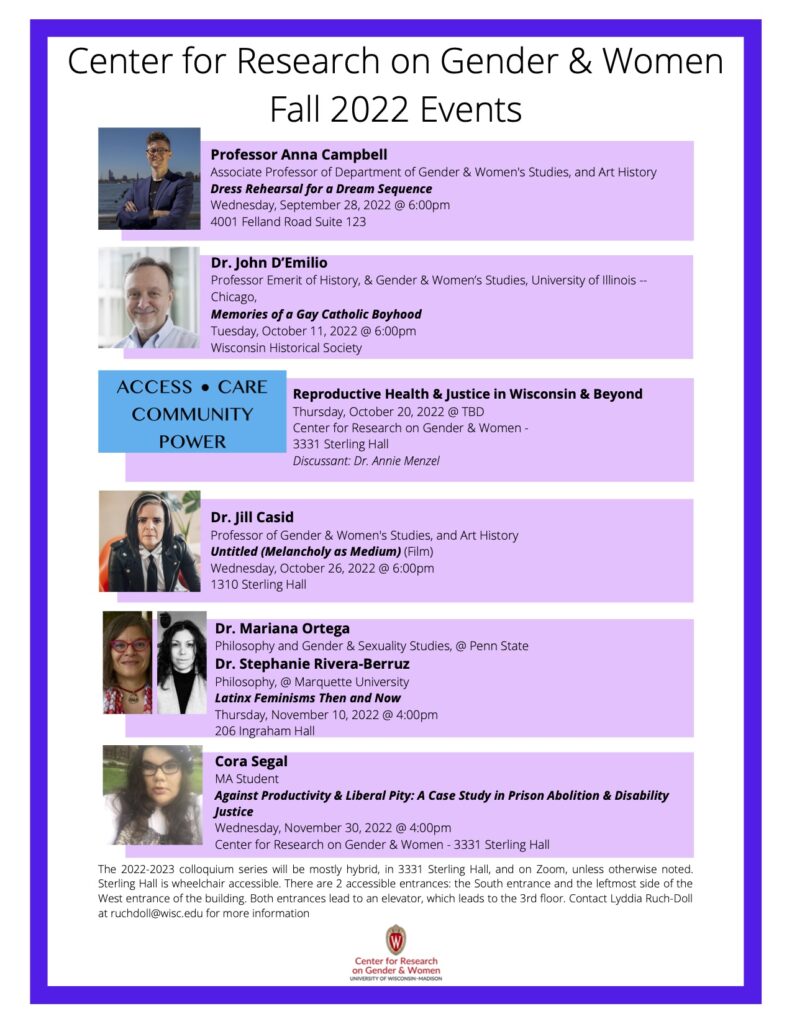 Spring 2023 Events (more details to come)
erin Khuê Ninh and James Kyoung-Jin Lee, "
Care

and the Model Minority" (March 2023)


Description

: For the Asian American studies scholars erin Khué Ninh and James Kyoung-Jin Lee the model minority is not a myth. It is instead a profound hindrance to Asian American well-being. In this dialogue, drawing on their recently published books, Ninh and Lee will discuss the ableist violence of model minoritarianism, the need for

care

that it produces, and the infrastructures of

care

that might be able to meet those needs.
Eugenics and Reproductive Justice: Dána-Ain Davis, Cara Page & Evelynn Hammonds (April 2023)

Dána-Ain Davis, Professor of Anthropology at Queen College, CUNY. Medical anthropologist and doula, author of Reproductive Injustice: Race, Pregnancy, and Prematurity (2019) and the co-author of Feminist Ethnography: Thinking through Methodologies, Challenges, and Possibilities, among other publications. In 2018 she was appointed by New York Governor Cuomo to the Governor's Maternal Mortality Taskforce. Davis is currently carrying out an archival project on the eugenics movement.
Cara Page is a Black Feminist Queer cultural/memory worker, curator, and organizer. An architect of the Healing Justice movement, she has fought for LGBTQGNCI, Black, People of Color & Indigenous liberation for over 30 years. She is the former Executive Director of the Audre Lorde Project. She is also the co-founder of the Kindred Southern Healing Justice Collective. Her current project, Changing Frequencies, is a Black Queer Feminist led, abolitionist organizing project that designs cultural memory work to disrupt the harms & experimentation of the Medical Industrial Complex* (MIC).
Discussant: Evelynn Hammonds, leading Black feminist scholar of history of science, Barbara Gutmann Rosenkrantz Professor of the History of Science, Professor of African and African American Studies & Professor in the Department of Social and Behavioral Sciences, T. Chan School of Public Health
Events Calendar
Past Care Workshop Events
Bharat Venkat At the Limits of Cure
Care and Precarity with Maurice Hamington
Distance, Detachment, Disaffection with Martin F. ManalansanManalansan Flyer_with link
Technologies of Kinship and Care with LiLi Johnson
Grief, Kinship, and Caregiving
Death, Dying and the Ethics of Care with Jill Casid
Change is Brewing! W Dr. Schalk
Writing about my Seven Mothers: Storytelling and Oral History as a Care Practice
Care and Communications Ethics
Care and Reproductive Justice with Annie Menzel
Care, Art and Performance Activism
Sexual Violence and Care on Campus
Confronting Sexual Violence in the Settler Colonial University
Circle of Care for Global Health and Human Rights: Migration and Human Trafficking of Women from West Africa to Europe