Care Readings
The UW Ethics of Care hub for literature on Care Research (organized in alphabetical order of first authors last name.)
This is an accordion element with a series of buttons that open and close related content panels.
A-H
Barnes: Abandoning Care?, Critical Social Policy
Clement, Care, Autonomy and Justice
Edwards, R., & Mauthner, M. 2002
Engster: care ethics and animal welfare,  Care Ethics and Politcal Theory, Care Ethics and Natural Law Theory 
Émon, Ayeshah, and Christine Garlough. "Refiguring the South Asian American Tradition Bearer: Performing the" Third Gender" in Yoni Ki Baat." Journal of American Folklore, 128, no. 510 (2015): 412-437.
Garlough, Christine L.. "Folklore and Performing Political Protest: Calls of Conscience at the 2011 Wisconsin Labor Protests." Western Folklore (2011): 337-370.
Garlough, Christine L. "Vernacular Culture and Grassroots Activism: Non-Violent Protest and Progressive Ethos at the 2011 Wisconsin Labour Protests," In Pnina Werbner, Martin Webb, and Kathryn Spellman-Poots (Eds.) The Political Aesthetics of Global Protest: The Arab Spring and Beyond. Edinburgh, Scotland: Edinburgh University Press (2014): 263-290.
Desi Divas: Activism in South Asian American Cultural Performances is the product of five years of field research with progressive activists associated with the School for Indian Languages and Cultures (SILC), South Asian Americans Leading Together (SAALT), the feminist dance collective Post Natyam, and the grassroots feminist political organization South Asian Sisters. Christine L. Garlough explores how traditional cultural forms may be critically appropriated by marginalized groups and used as rhetorical tools to promote deliberation and debate, spur understanding and connection, broaden political engagement, and advance particular social identities. Within this framework she examines how these performance activists advocate a political commitment to both justice and care, to both deliberative discussion and deeper understanding. To consider how this might happen in diasporic performance contexts, Garlough weaves together two lines of thinking. One grows from feminist theory and draws upon a core literature concerning the ethics of care. The other comes from rhetoric, philosophy, and political science literature on recognition and acknowledgment. This dual approach is used to reflect upon South Asian American women's performances that address pressing social problems related to gender inequality, immigration rights, ethnic stereotyping, hate crimes, and religious violence.

Case study chapters address the relatively unknown history of South Asian American rhetorical performances from the early 1800s to the present. Avant-garde feminist performances by the Post Natyam dance collective appropriate women's folk practices and Hindu goddess figures make rhetorical claims about hate crimes against South Asian Americans after 9/11. In Yoni ki Bat (a South Asian American version of The Vagina Monologues) a progressive performer transforms aspects of the Mahabharata narrative to address issues of sexual violence, such as incest and rape. Throughout the volume, Garlough argues that these performers rely on calls for acknowledgment that intertwine calls for justice and care. That is, they embed their testimony in traditional cultural forms to invite interest, reflection, and connection.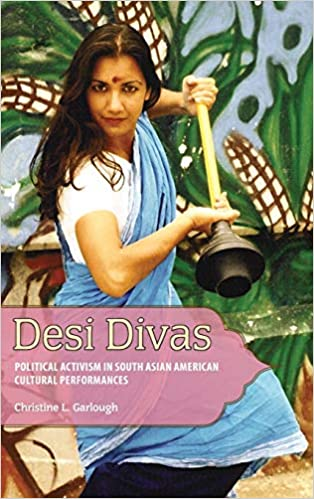 Held : Can the Ethics of Care Handle Violence? , Care and Justice in a Global Context, The-Ethics-of-Care-Personal-Political-and-Global-by-Virginia-Held,
J-R
Jiyoun Suk, Aman Abhishek, Yini Zhang, So Yun Ahn, Teresa Correa, Christine Garlough, and Dhavan V. Shah"#MeToo, Networked Acknowledgement, and Connective Action: How "Empowerment Through Empathy" Launched a Social Movement,", Social Science Computer Review. 2019. DOI: 10.1177/0894439319864882. 
Kittay: Care and Justice, The Ethics of Care, Dependence, and Disability
Leget: Analyzing dignity ,Beyond demarcation
Noddings: Two Concepts of Caring, Empathy
Paley:  Heidegger and the ethics of care , Virtues of autonomy
Piepzna-Samarasinha: Fair-Trade-Emotional-Labor-Economy, Care Webs Scan (Part 1., Part 2, Part 3), Prefigurative-Politics-and-Radically-Accessible-Performance-Spaces
Rabin: The-Theatre-Arts-and-Care-Ethics ,Teaching-care-ethics-conceptual-understandings-and-stories-for-learning
Robinson:  Globalizing Care,  Beyond Labour Rights,
S-Z
COVID-19 Resources
The UW Ethics of Care Workshop is here to support our entire community in these uncertain times. Here, we will provide resources related to teaching, self-care, virus information, and more.
This is an accordion element with a series of buttons that open and close related content panels.
Combatting Hunger
Mutual Aid
Primary Information Resources
Madison Information
Health and Well-Being
Arts and Entertainment for Social Isolation
Caregiving Tips
How to Help
Emergency Contacts
Combatting COVID-19 Racism